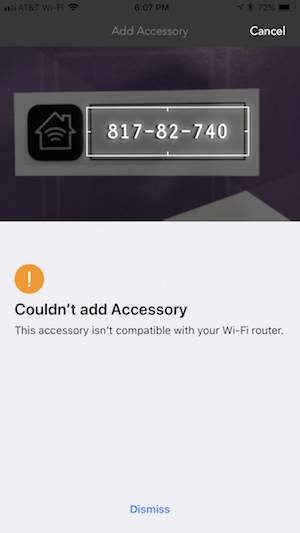 During the setup process the app may tell you, "This accessory isn't compatible with your Wi-Fi router." This notification typically occurs when your iOS device is not connected to a compatible network band, and does not necessarily mean that the router itself is incompatible.
Follow these steps to ensure that your iOS device is connected to a 2.4GHz network band for setup. A 5GHz network band is not compatible with iDevices products.
Open your iOS settings app and tap Wi-Fi.
If you have a 2.4GHz network option, please select that. Otherwise, you will need to contact your internet service provider or router manufacturer for help identifying the 2.4GHz network.
Once the network is selected, that information will be handed off to the product for you.
Return to the iDevices Connected App.
Add the accessory again. 
Once the setup and any firmware updates are completed, you may reconnect your iOS device back to the 5GHz network.