Requirements
Home Wi-Fi® 2.4 GHz (802.11 B/G/N)
None, WPA or WPA2 (AES) Network Security
The following list shows tested routers NOT currently compatible with our smart home products
Actiontec MI424WR
ARRIS EA9200
ARRIS TG1672
ARRIS TG862
ASUS RT-AC1200
Bell Home Hub 3000
Business Class Routers
Google Fiber
Netgear Orbi (earlier than firmware v2.1.4.16)
Netgear X6S
Technicolor TC8717T
Ubee Routers
To verify or change the Wi-Fi security settings of your router, follow these steps:
Log into your wireless router by entering the IP address of your router into a web browser. The IP address can be found in the router manual.
If prompted, enter the username and password for the router. The default username and password will also be listed in the router manual.
Once you've logged in, look for the Wireless option.
For Security Mode, select WPA, WPA2-Personal (WPA2-PSK) or None. If given an option for encryption, select AES. TKIP encryption is not compatible. Note: If "None" is selected for wireless security, a password isn't required to join your network.
In some cases, you may have to change your Wi-Fi password. If you have to change your password, you will have to enter the updated password for all of the devices (computers, tablets, smartphones, etc.) that connect to your network.
Click "Save" or "Apply Changes."
Your router may reboot itself to apply the changes.
If you have difficulty logging into your router, you can contact your internet service provider or router manufacturer for additional assistance.
All iDevices products are certified by the Wi-Fi Alliance®. The certification doesn't guarantee iDevices products work with all routers. You can verify compliance on the Wi-Fi Alliance website - www.wi-fi.org - or look for this logo on your networking equipment to ensure compliance: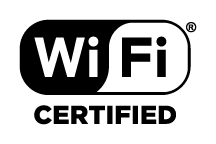 Note: Due to firmware, router and mobile device updates, compatibility may change at any time.