The iDevices Thermostat has advanced tuning controls, which allow you to control energy usage by determining when and how long your HVAC system runs. When you tap on the Thermostat, scroll down and tap "View All Options." This will bring you to the advanced tuning controls.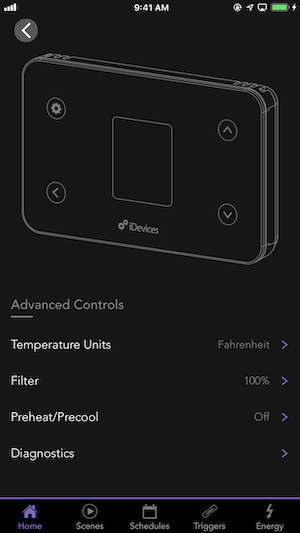 Preheat/Precool
With Preheat/Precool set to OFF, the iDevices Thermostat will activate your HVAC system precisely at the time you set in a Schedule. 
Since it takes some time to heat or cool your home to the desired set temperature, the temperature in your home may not always exactly match your set schedule. With the iDevices Thermostat, Preheat/Precool helps to correct this.  
Preheat/Precool gradually starts heating or cooling your home before the set schedule period begins, enabling your home to be at your desired temperature exactly when you want it to be.  
Span
The span setting regulates when and how long your system will run. The span has been set at the factory to 0.5º (in Fahrenheit mode) which will allow the system to turn on 1ºF above or below the set temperature and run for 1ºF above or below the set temperature. 
Example: If your thermostat is set to turn on at 72º in heat mode, with a span setting of 2, your thermostat will activate your furnace when the room temperature hits 71º and shut it down when it reaches 73º. For cooling at 72º with a span of 2, your air conditioner will activate at 73º and shut down at 71º. This setting can be changed to 0.5º, 1º, or 2º.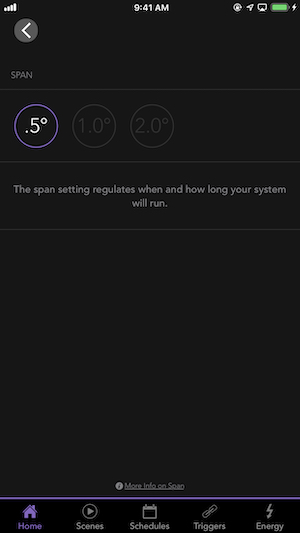 Deadband 
The deadband represents a temperature range around the AUTO mode set point that is your "comfort zone". For example, with a 4° wide deadband and a setpoint of 70°, the deadband will be 68° - 72°. This keeps the system from bouncing quickly between heating and cooling when in AUTO mode. 
When temperatures fall within the deadband, neither heating nor cooling can occur. A larger deadband will have your system run more economically, while a smaller deadband will have your system hold the temperature closer to the setpoint and increase comfort. The deadband does not affect your thermostat's operation when in HEAT, COOL, or EMERGENCY HEAT modes.
Example: If you have an 8º deadband and you set your desired temperature to 70º in AUTO mode, your heating set point will be 66º and your cooling set point will be 74º.
Offset 
Offset allows you to adjust the ambient temperature readings of your Thermostat.  If you notice that your Thermostat is reading higher or lower than you prefer, you can adjust the reading here. The Offset value that you set will be added or subtracted from the unit's ambient temperature reading. The offset value adjusts both the displayed ambient temperature and the ambient temperature value used to determine when the heating or cooling turns on.