The iDevices Connected app for Android uses a Google account to sync your home to multiple mobile devices. In order for your home to synchronize across devices, you must log into the same Google account in the iDevices Connected app on all of the devices.
After downloading the iDevices Connected app, you'll walk through the following Home Data syncing steps during the initial app setup.
Tap "Setup Now"
Choose the Google account you'd like to use for syncing, or sign into a new account. Some users prefer to set up a new Google account to use for home sharing.
When downloading the app on additional Android devices, sign in with the same account and the Home Data will sync automatically.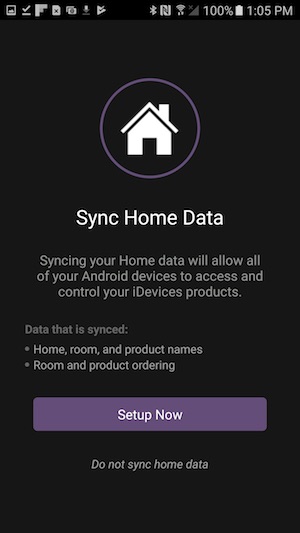 If you did not sign in during the initial setup, follow the steps below to setup the Home Data syncing:
Tap on the (☰) in the upper left-hand corner
Tap "Settings"
Tap "Login"
Tap "Setup Now"
Choose the Google account you'd like to use for syncing, or sign into a new account. Some users prefer to set up a new Google account to use for home sharing.
When downloading the app on additional Android devices, sign in with the same account and the Home Data will sync automatically