A Scene is a group of multiple products, performing specific actions (turning on, turning off, etc.). They can be a combination of iDevices products and other HomeKit™ compatible devices. Scenes are not currently available on Android™.
You can ask Siri® to activate the Scene, or you can assign a Schedule to the Scene if you have an Apple Home Hub. The Scene will be activated when the phone is on the same Wi-Fi® network as the product, or if you have a Home Hub setup, the Scene can be activated remotely. An Apple Home Hub can be an Apple TV 4K, Apple TV 4th Generation or iPad® running iOS 10 and later. For more information on using a Home Hub, Click Here
To create a Scene:
1. From the home dashboard, tap "Scenes."
2. Tap the + in the upper right-hand corner or if this is your first Scene tap "Create a Scene."
3. Select each product and choose what the accessory should do in this scene.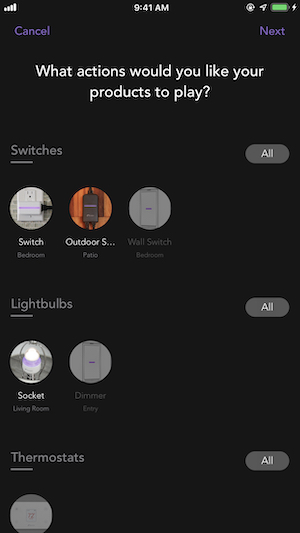 4. Tap "Next" in the upper right-hand corner once all the products in the scene are highlighted.
5. Tap "Enter Scene Name," and enter a name using the keyboard or choose a name from the list of suggestions.
6. Tap "Next" in the upper right-hand corner.
7. Review the Scene details, then tap "Done" in the upper right-hand corner. 
You can now have Siri® activate your scene by saying "Siri® set my [Scene Name] scene."  Alternatively, you can tap the Play Button (►) in the scenes menu to activate a scene at any time.